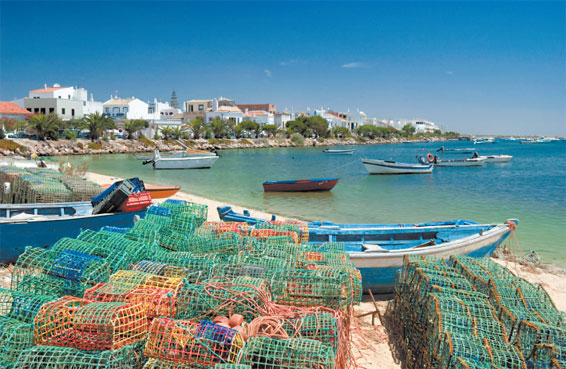 ©Alamy
When visiting the Algarve, most people turn left, or west, when they leave Faro airport. Those who turn to the right, towards the Eastern Algarve, head towards a region in southern Portugal that has remained relatively tourist-free.
"If you want to buy a second home in an area that is less developed than central and west Algarve, and where you can find more of the genuine Portuguese culture and lifestyle, then this is where you should look," says David Rowat of Portugal Property. "You also have the option of easily being able to visit Spain."
Rowat has been selling property in Portugal for the past eight years and has recently seen a growing trend for purchasers looking towards areas that are quieter and unspoilt. "The market is much improved on last year when it was all about managing expectations," he says. "This year people are coming back to buy, especially as the exchange rate for European purchasers is becoming better and better."
The city of Tavira is the main draw for second home buyers, with its attractive historic centre either side of the Ria Gilão, its cobbled streets, good selection of shops, restaurants and bars, and bustling daily market. Close by is Cabanas, which is popular with Belgians, Finns and Swedes, who don't want central Algarve but like the buzz of the small waterside village. Santa Luzia, another former fishing village, has a prettier waterfront, but in both you need to be careful where you buy. Cabanas, in particular, is suffering from the remnants of a building boom from a few years ago on its inland side where many apartments lie empty (though properties close to the water's edge are still in demand).
The historic village of Castro Marim, overlooked by the ruins of a 12th-century castle on one side and the fort of São Sebastião on the other, is a popular place to visit, but not the best location to buy a second home as the quality of apartments and houses isn't high and none have their own pools. "Most of our buyers want a superb quality of build and a home with a 'wow' factor. Most buy in or around Tavira," says Rowat.
He is selling a newly-built villa in Santa Catarina, which lies halfway between Tavira and São Brás, in a 25,000 sq m plot. The property has four bedrooms, a large curved infinity pool and contemporary interiors. It is currently on the market for €1.75m. Rowat is also selling a large three-bedroom apartment for €275,000, including membership to the local golf club. There are plans to build more apartments here, and to extend the nine-hole golf course to 18 holes.
Those who prefer to buy a second home on an established, well-run and upmarket development can find exactly that if they drive another 10 minutes on from Tavira. The 1,000-acre Monte Rei Golf and Country Club resort, just north of the hamlet of Santa Rita, lies in rolling countryside that is typical in this area of the Algarve. The Jack Nicklaus golf course was the first facility to open in June 2007 and has recently been voted (for the second time) "Best Golf Resort in Portugal" by the website Top 100 Golf Courses.
The resort prides itself not only on its high standard of service on the golf course, but also in its restaurants – overseen by chef Jaime Perez, who previously worked at the three-Michelin star El Bulli restaurant in the town of Roses, Spain. At O Miradouro Village, a development on the resort, there are 90 villas, two tennis courts, an outdoor pool, gym, spa, sauna and steam room, plus a restaurant and bar.
Here, three-bedroom, three-bathroom villas in small terraces with garage, basement and landscaped garden are priced from €1.175m to €1.325m. Semi-detached four-bedroom, four-bathroom villas cost from €670,000 for the plot plus a construction allocation of €840,000. The interiors can be designed to the owner's specification and so far 18 of the 53 have been built.
"We are definitely seeing more interest this year. There is more confidence and the attitude towards buying is far more positive," says Mário Condeço, commercial director. The majority of purchasers – from the UK, Ireland, Portugal, Germany and Spain – are golfers.
For those who would rather build their own detached villa, there are three separate areas to choose from, all with great views and closer to the golf course and the clubhouse. Plot sizes range from 1,750 sq m to 7,800 sq m with prices between €997,000 and €3.25m. One of these, No 1 Caso do Campo, is for sale through Engel & Völkers for €4.5m. The contemporary five-bedroom villa overlooks the 16th fairway and is built from a mixture of glass and slate. It has many striking features including three linked pools, one of which you can look right through from the basement living room and out to the golf course.
The resort is also notable for its low density. At 8 per cent, this is far lower than Quinta do Lago, for example, where density has risen to 20 per cent. There are also plans for a five-star hotel, a second Jack Nicklaus golf course, 40 apartments, a small shopping centre and a beach club at Cacela Velha, a pretty village just five minutes away. The latter is likely to be the first to be given the green light, but the remainder are waiting for the economic climate to improve.
Closer to Fuseta and near the village of Moncarpacho is Colina Verde. This is a four-star resort with 31 apartments, a nine-hole Jack Nicklaus golf course, tennis courts, restaurant and bar, pool, spa with sauna and Turkish steam room and one of the best private football pitches in the Algarve.
A one-bedroom apartment in one of the newer blocks is on sale at €180,000, while a large three-bedroom apartment is available for €275,000 (both through Portugal Property). The price includes a family golf membership. New for this year is the opening of the Colina Verde beach club on Barril beach. The Irish developer, Paul Nagles, is waiting for final planning to come through to extend the golf course to 18 holes and build more apartments. He is hoping to start work later this year.
Mary Wilson was a guest of Monte Rei Golf & Country Club resort
www.myalgarvecars.com Algarve Car Hire